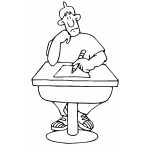 What would you do if your students always came thirty minutes late to class and never did their homework? Well, you might pass it off as cultural or time management problems. On the other hand, you might say, "Who cares why they are late! They should be punished!" I don't often think about punishing students. I tend to empathize with them.
Most of my students work at least one full-time job and many of them work two jobs. Some of them work a night shift and a day shift. So I find it hard not be impressed by what they do. They are my inspiration. They work so hard and they normally manage to come to class three days a week for two and a half hours.
The problem is that class is four days a week for three hours! And despite how busy they are, I am responsible for teaching them all of the course material. So the other teacher and I decided to "punish" them for missing class. Two days a week, we instituted a half hour homework time after class that is mandatory for students who come late or don't complete their homework.
The first two Homework Half-Hours went brilliantly. Even students, who weren't required to stay, decided to stay and work on extra homework or help other students. The time was very productive and I thought they were all very motivated.
But maybe they were just motivated because they wanted to leave! Because last night (which would have been a class followed by the Homework Half-Hour), only three students came to class. All three of them had completed all of their homework and didn't have to stay after. I can't help but think that the other students did not want to get "punished" for not doing their work, so they decided to skip class. It was very depressing because we only want to make them successful. And we just aren't sure how to do that if they are gone so much! I honestly feel like I got punished last night.
Tags: class, discipline, english class, english homework, english teacher, homework, homework half-hour, language learning, language learning methods, late, punishment, teaching